LBUG Home | Rides Calendar | Contacts | Big Bike Day | Go For a Ride |
Move mouse over map and click on places of interest for more detail, or use list of places on the right of the map.
Pink roads are main roads or highways. Green roads are more suitable for cyclists. Dashed routes are cycle or footpaths.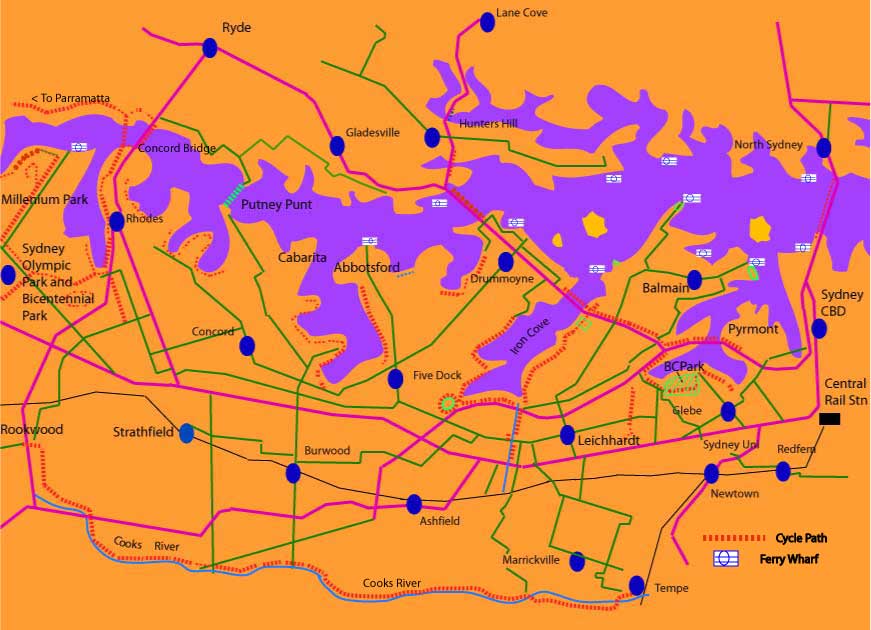 Click on links to get to the following places:

Bicentennial Park Glebe
Balmain
Cockatoo Island
City
Pyrmont
Glebe
Sydney Uni
Redfern
Centennial Park
Whites Creek
Grand Tour of Inner West
Hawthorne Canal
Iron Cove
Abbotsford/Drummoyne
Fivedock BMX pit
Concord
Burwood and Strathfield
Olympic Park,Homebush
Parramatta via Newington and Harris Park
Ryde
Parramatta via Meadowbank
Gladesville Bridge
Woolwich/Hunters Hill
North Sydney
Marrickville
Leichhardt
Cooks River Cycleway
Further Afield - more rides you can do.




A word on maps.
You can use the maps on this website (a bit rough but plenty of detail). The RTA puts out various maps of cycle routes, but they dont always include the handy short cuts. Local Councils put out cycleway maps.
Bikely is a mapping site with many bike routes on it. Enter LBUG in the search box to list all LBUG-compiled routes and rides.
As well as "Bike-it", a back street guide to bike routes in and around the Inner City, Bruce Ashley has published a book of rides around Sydney. Available from bike-it home page, or Bicycle NSW and booksellers.
Leichhardt Council have released a map of cycle routes called "Out and about in Leichhardt".
A street directory is handy (you can get pocket sized ones) and you can mark your own favourite routes. Online, try street-directory.com.au . Google maps with Streetview is interesting too.

Also, on this LBUG site, there is a guide to safe cycling.

Main streets are Norton St and Marion St. There is an east-west cycle route on Allen St, which crosses Norton St and runs down to Hawthorne Canal. Other handy routes are Renwick St, to bypass Norton St and cross Parramatta Rd at lights into Petersham, and Balmain rd, which has a bike lane marked between Parramatta Rd and Leichhardt St for northbound cyclists.

Bicentennial Park, Glebe Point

This is a good park for children to learn to ride in, and is a great picnic spot with big shade trees and water views. The paths are flat and wide and there is plenty of space. There is a bike path up nearby Johnston's Creek (with a safe underpass of The Crescent near Harold Park) to add some more places to explore. A new foreshore shared path (cyclists are permitted to ride, but please ride with care as there are some sharp bends and it is also an off-leash dog area) goes eastwards around to Blackwattle Bay and Glebe High School, with a road link on Taylor St to Bridge Rd. The Park is at the northern end of Glebe Point Road, or can be reached from Johnston St and The Crescent or from Brenan Street and Railway Pde.

The back streets of Rozelle, Birchgrove and historic Balmain can be cycled without too much bother. See the green routes on the map.There are some sign-posted bike routes. There are good harbour views and interesting old houses. Plenty of cafes and pubs along Darling St.

Get to Balmain from Leichhardt by Darling St (cycle lanes part way, a bit busy through Rozelle, but it is mostly flat) or via Lilyfield Rd, left onto Denison St, right up Evans St (steep hill), cross Victoria Rd and right on Beattie St. Another way is via the Iron Cove foreshore path, under Iron Cove Bridge, then up to Terry St via a pedestrian ramp (another climb) and Margaret St, or take the road up through the Balmain Cove estate. Visit Yurulbin Point at end of Louisa Rd in Birchgrove and historic Mort Bay. Continue on to East Balmain via Mort St, Trouton St, Wells St, Caroline St and St John St to Darling St East.

East Balmain can also be reached from Lilyfield Rd and the pedestrian overpass at Victoria Rd then via sign posted route along Robert St, Buchanan St, Hyam St, Donnelly St, Adolphus St or Ewenton Park (a fine old house overlooks the park) to Darling St East. It is steep going down to the ferry at the end of Darling St (a classic Sydney view) but you can take Weston and Paul Sts on the way back to make it a little easier. Iloura Reserve just south of the ferry wharf is worth a look. Go right to the south end, Peacock Point, up the sandstone steps, with views back to Anzac Bridge, and follow a zig zag along Edwards, William and St Marys Sts to get to Pearson St and back up to Darling St. Have a beer on the balcony of the London Pub on the hill up to Balmain.

See the whole route around the Balmain peninsular on Bikely. A fair bit has been signposted now as part of Leichhardt Council's Bike Plan.

Bikes are free on ferries, so from East Balmain or Mort Bay you can take a ride across to Circular Quay or up the Harbour to open up more places to explore by bike, like the Parramatta Valley Cycleway from Putney to Meadowbank, or get off at the Olympic ferry stop at Homebush Bay, where there are miles of cycleways. Cockatoo Island can be reached by ferry from East Balmain,Circular Quay or King St Wharf. It is big enough to make cycling a useful way to see everything, and there is a cafe for lunch or even tents to hire for an overnight stay!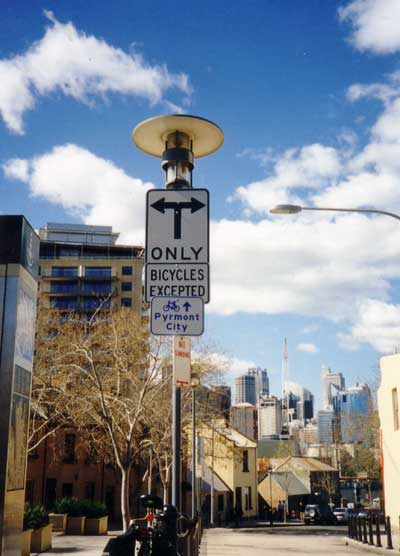 The City is easy to get to via the Anzac Bridge shared footpath/cycleway. The path starts from The Crescent (can use Brenan St and Railway Pde under the light rail bridge to get to The Crescent from Leichhardt). A new bike path has been built on the other side of the bridge approaches to give direct access for cyclists coming from Balmain. Once over the Anzac Bridge there is a great spiral ramp down to Saunders St, near Channel 10, and then take Miller St up to Harris St, or visit the Fish Markets. If going to the City, cross Harris St at the bicycle crossing and follow the cycle route on Union St towards the City. At Murray St, cross over to Pyrmont Bridge, where cyclists are allowed to ride. A new bike path takes cyclists from the end of the bridge to the foot of King St. No special provision for cyclists on King St so go up King St in the centre of the left lane to stop cars squeezing past and get to Clarence St or George St or keep going right up King St to get to Elizabeth or Macquarie St. (Beware of turning traffic at Sussex St - cross Sussex St to King St with great care - a cyclists was killed here in February 2001).

If

heading for the Harbour Bridge Cycleway and North Sydney, go left on Sussex St to Hickson Rd, then right up Erskine or Napoleon Sts to Kent St. Go along Kent St, turn right at Argyle St then veer right onto the road up to Observatory Hill. The bridge cycleway (for bicycles only, but sometimes pedestrians stray on to it)) starts at top of the street, on the left.

From Murray St, Darling Drive behind the Exhibition Centre at Darling Harbour has a cycle lane leading to the Haymarket area. Take care at roundabouts. If there are not too many people around, like in the early morning, you can go between the retail building and the conference centre and cut across Darling Harbour to exit at Liverpool St or the Chinese Gardens and China Town.

The other route into the City is via the East-West cycle route, through Annandale and Glebe, coming out in Haymarket/ Ultimo.

For experienced city riders not afraid of traffic, Parramatta Rd can be used. Cyclists can use Bus Lanes, which start at Ross St near Sydney Uni, but keep to the centre of the lane or the buses will try to squeeze past, and be wary at bus stops and left turns (like at Harris St) as drivers will often cut in on a cyclist. Be particularly careful at Mountain St in Broadway, where cars will often do a fast right turn in front of oncoming cyclists. Ooh, sorry, didnt see you!




The Canal is the border between Leichhardt and Haberfield, and runs into Iron Cove. Bike paths run either side of the canal and link with the Bay Run around Iron Cove and the cycle route to the City along Lilyfield Rd. You can ride all the way to Parramatta Rd on the canal bike path, after a crossing at Marion St. From there you have to go east or west along the footpath to get to a suitable set of lights to cross at. Eventually it is hoped that the canal path will be extended to go under Parramatta Rd and continue up the Canal a few hundred metres more until you can get onto Grosvenor Crescent, which takes you under the railway into Summer Hill. From Summer Hill you can get to the Cooks River cycleway through Marrickville and Dulwich Hill.

There is a connection from the Hawthorne Canal path to the start of the East-West cycle route (see above) on Allen St, via the underpass of the rail line at Daniel St, near a footbridge over the canal.Go up to Norton St for a coffee. Take care at the roundabouts at Darley Rd and on Allen St.There is also another underpass and footbridge across the canal from Lords Rd, which is south of Marion St. This is useful to get to Parramatta Rd and Sloane St, which leads to Summer Hill Station, where there is a new underpass.

From Hawthorne Canal you can also ride through Haberfield and its Federation houses and get over to Timbrell Park in Fivedock. Cross the City West Link at Timbrell Drive or at Waratah St.

Pyrmont can be explored using back streets. There is a nice park at Pyrmont Point, at end of Harris St. Ride back past the Casino to Pyrmont Bridge and Darling Harbour.

From Bicentennial Park at Glebe Point (water end of Glebe Pt Rd) go up Glebe Point Rd to Leichhardt St, turn left and go down to Blackwattle Bay Park (or you can cut through a block of flats to Sheehy St). A path runs along to the foot of Forsyth St. Eventually a foreshore path from the Point will go all the way to Bridge Road but until then, turn right at Forsyth St then left at Taylor St. Follow along to Bridge Rd past the High School. From here you can take the footpath to the Fishmarkets and Pyrmont if traffic worries you. Watch out for trucks exiting from driveways.

A circuit back to Bicentennial Park can be made by finding Saunders St past the fishmarkets (look for the Channel 10 building) and using the spiral ramp to access the cycleway over the Anzac Bridge. On the west side of the bridge follow the cyclepath to the Victoria Rd intersection and use the pedestrian overbridge to cross Victoria Rd (going straight ahead will lead you to Rozelle and Balmain) and the shared footpath then leads back to Bicentennial Park alongside the City West Link and The Crescent. Turn left into Chapman Rd at the timber yard (corner of Johnston St).

There is a bike lane marked on Junction St/St Johns Road (part of the East West route) and this leads to some quiet back street routes around Glebe. Access to Ultimo and China Town can be had along Glebe St and Kelly St. Cross Wattle St at a useful new set of lights at Kelly St into a short piece of contra flow bike lane on Wattle St and go left up Mary Ann St. Cross Harris St and turn right on Omnibus Lane, to come out on Ultimo Rd in the Haymarket. (return via shared footpath on Mary Ann St, owing to current one way status.)

Sydney Uni is good to explore on a weekend. Enter via Ross St gates. Riding through the Uni is a useful short cut to get to Redfern/Erskinville - exit at City Rd Gates onto Codrington St. Use Wilson St to get to Newtown and Abercrombie St and Redfern St to get to Redfern Station and Redfern. Keep going along Redfern St and you will get to Surry Hills and eventually to Moore Park (look for access off Bourke St through a residential area to a footbridge over South Dowling St) and Centennial Park, via cyclepath along Cleveland St past Sydney Boys and Sydney Girls Highs.

The Whites Creek valley provides a quiet north/south bike route across Annandale from Parramatta Rd to Brenan St. It starts in Albion St between Catherine St and Young St. Follow Whites Ck Lane, which meanders along northward and crosses Styles St at a refuge crossing. Watch for cars whizzing down Styles or Collins Sts. On the opposite side a path takes you on to an underpass of Booth St (watch for some rough patches of path) then on to Piper St through a recently constructed wetlands.Keep going north via back lanes on the east side of the canal or a path on the west side of the canal until you get to Brenan St and Railway Pde. Railway Pde leads to The Crescent, via a path under the light rail bridge through a small park, where you can access the Anzac Bridge cycleway ( turn left, cross at lights) or go to Bicentennial Park, Glebe Point (turn right, follow footpath to lights at Johnston St).

If you would like Whites Creek fixed up for cyclists, better surfaces, sign posting, etc, then how about writing to Council and requesting improvements?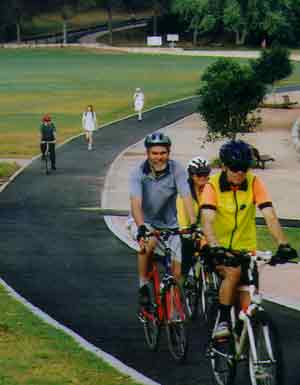 Follow the Bay Run/Cycleway around Iron Cove from the Leichhardt Pool (Aquatic Centre). New bike paths (shared with walkers) are being built as part of an upgrade for the Bay Run. A complete circuit can be done by using the footpath over the Iron Cove Bridge. This is narrow and congested at times with joggers and walkers, (may be upgraded - see Issues and News) but cycle carefully and it is OK. Carry bikes down steep steps at the Rozelle end of the bridge to get access to the foreshore and parklands around Rozelle, or you can cross Victoria Rd at the lights at Terry St.
Have a look around the grounds of Rozelle Hospital (Callan Park)- there are a number of quiet roads and some interesting buildings and aboriginal sites and even a rain forest in a gully.
There is a good children's bike circuit in Timbrell Park, Five Dock, at the end of Iron Cove (Canada Bay Council). Also a BMX/skateboard facility (quite challenging) in Fivedock Park.

From Timbrell Park, Fivedock, (at head of Iron Cove ) take Minnesota Av and Ingham Av to Fivedock Park. (Challenging BMX track for the older kids.) Keep following Ingham Av north to the lights at Lyons Rd and cross into Myalora St then left on Russell, right on Pine and left on Wareemba then right at Great North Rd. At the end of Great North Rd there are waterfront parks (and Sydney Rowing Club for a beer or lunch). Catch a ferry at Abbotsford Point or visit Quarantine Reserve off Spring St. There is a road and some cycle path from the Reserve along the east side of Hen and Chicken Bay which will bring you out at Lyons Rd West. (Unfortunately a few waterfront houses block access further west along the foreshore towards Concord).This is a busy street, but you can cross it onto quieter streets behind Fivedock shopping centre and head back towards Fivedock shops and Fivedock Park and Iron Cove.
Alternatively, from Great North Rd, take Blackwall Rd east towards Chiswick, turn right at Bibby St and go along Byrne St to The Esplande and on to a path through Taplin Park on Five Dock Bay. Rejoin the road , then a right at Henricks Av and a left onto Victoria Place and turn right onto Drummoyne Av, which goes under Gladesville Bridge. A short diversion to the end of Victoria Pl takes you to Howley Park at Five Dock Point with a good river and bridge view. Return to Iron Cove via a sign-posted bike route through East Drummoyne via Wrights Rd, Wolsely, Collingwood and Renwick Sts to Birkenhead Point. Follow Henley Marine Drive back to Timbrell Park.
Concord/Cabarita/Breakfast Point
There are cyclepaths, shared with pedestrians, around Canada Bay to Cabarita and Breakfast Point (new path opened in 2009) from Lyons Rd West. (Turn right at a cycle refuge crossing just before the bend where Lyons Rd West becomes Crane St). Cross the Parramatta River tp Putney Park via the last vehicular ferry on Sydney Harbour from Hilly Rd, Mortlake. First ferry 10 am Sundays. On the Putney side there is a bike route along Pellisier Rd and Waterview St to Concord Bridge and a round trip can be made across the Bridge and back through Concord to Fivedock and Leichhardt.
From Leichhardt Town Hall the most direct route is down Marion St to Ramsay Rd in Haberfield. Turn left at Dalhousie St then right on Denman and left at Bland St. Cross Parramatta Rd at the lights and proceed further up Bland St to a right at Julia St, then left on title St and a right onto Church St, which crosses busy Frederick St at lights and then continues across Croydon Rd and on to Lang St. Turn left at Lang, and then right onto Queen St, which goes past Burwood Girls High School. Queen St then becomes Victoria St as it reaches the Westfields Shopping Center. Continue ahead down Victoria St to Burwood Rd, or bypass Westfields via Wilga St on the northern side if going to Strathfield, as there is a No Entry sign on Victoria St to Burwood Rd. Proceed via Park Av, Gladstone St, Wentworth and Everton Rds to get to Strathfield Station. Use underpass to get to Strathfield shops.
It is about 12 km from Leichhardt to Olympic Park via Fivedock and Concord. From Norton St go down Allen St or Lilyfield Rd to the RTA Regional Cycleroute from Hawthorne Canal via the cyclepath next to the City West Link, thru Timbrell Park, up Ingham St,then left onto Fairlight St, Queens Rd, Gipps St, Patterson St (ignore the left turn at Sydney St) to Concord Rd, Turn right at Concord Rd then immediately left into Princess St, then right into Queen St along the railway to North Strathfield and left onto Pomeroy St. Go down to the canal at bottom of hill (Powells Ck). Turn right just past the bridge ( watching for traffic) onto a bike path along the canal to Bicentennial Park. Follow bike path thru the Park to a footbridge on the western side over Bennelong Rd and Australia Av, which brings you to Olympic Park (Sarah Durack Av). If the route along Patterson and Gipps Sts is too busy for you, look for quieter streets through Concord off Majors Bay Rd - eg Wellbank St. An alternative to the bumpy bike path next to Powells Creek is to take George St and enter Bicentennial Park via Victoria St near Concord West Station.
At Olympic Park you can ride around the vast open spaces (help make the place look like it is being used) and then cross Hill Rd and go over to Newington (the new suburb west of the Olympic site) and ride along a cycle path to the large man-made hill at the north end of Hill Rd - there is a path up the hill to a good viewing spot on top. More cycleways are being built in Millenium Park which extends west towards Silverwater Bridge. There is a popular cafe on the waterfront near the Armory. Catch a ferry home to East Balmain from the Olympic ferry terminal at end of Hill Rd, bikes are free, or ride back.
From Olympic Park go round the back of the Stadium (Edwin Flack Av) and turn left on to Old Hill Rd, then left on to Hill Rd for a short section, get into right turn lane and turn right at Wing Pde and then left onto a cyclepath next to the wetlands and follow it under the M4 (see map)and then turn right next to the M4, heading west until it joins Adderley St East. You can get to Parramatta easily now via Adderley St, which runs parallel to the M4, and then connects to a new cyclepath over James Ruse Drive and under the M4 to Good St in Harris Park. Turn right here and then left on Marion St to Station St, and you are in Parramatta. Head down Macquarie St to Parramatta Park, which has some cycleways, including a circuit for trainers. See the extension to Prospect Dam via Guilford in Further Afield. You can also get to Parramatta via Silverwater Bridge to a cycleway on north side of the river.
Get to Ryde via Rhodes and the cycleway across the John Whitton railbridge to Meadowbank Station. A bike route leads up the hill to Ryde. Or follow the cycleway along the river eastwards to Putney and return to Cabarita via the Putney Punt. The cycleway along the river also goes west to Parramatta (see next section).
Parramatta via Meadowbank and Rydalmere.
Get to Parramatta via a cycleway along the north side of Parramatta River. Runs from Ryde Bridge past Meadowbank and Ermington, under Silverwater Bridge to Rydalmere. From here there are two options, a steep bike carry over Thackeray St foot bridge to Grand Av, Camelia, or via South St to Clyde St and a new path to Brodie St , then through Uni of Western Sydney grounds to an underpass of James Ruse drive near the river which links to Thomas St in Parramatta. At end of Thomas St turn left on Elizabeth and cross river into Parramatta CBD(may involve a set of steps down to the river).
Get to the bridge via a signed cycle route from Iron Cove Bridge via Day St in Drummoyne, along Renwick St, right at Lyons Rd, left at Collingwood St, Wolseley St. It is a steep climb on the cyclepath over the bridge and access to/from the north side is poor. You can get to Gladesville and Ryde by going in a loop under the bridge and back up via Huntleys Pt Rd to Gladesvile Hospital grounds. You can also keep going north via Tarban Ck and Fig Tree Bridge to Hunters Hill (or take a side trip to Woolwich and catch ferry back to Balmain) and eventually to Lane Cove. You can do a Harbour circuit via the North Shore and the Harbour Bridge. See a map of a walking route that can be cycled most of the way (some steep steps and bike carries though) Seven Bridges Walk.
To get to Marrickville you can go via Stanmore. Cross Parramatta Rd on Catherine St or Young St and head for Stanmore Station via Percival St. There is an underpass of the railway there and a set of steps up to Trafalgar Rd. From here head along Cambridge St to Merchant St. Merchant St leads to lights at Stanmore Rd. Cross over and use footpath for a few metres to Wemyss and Agar Sts to cross Addison St onto Illawarra Rd, which leads right to Marrickville.
Another way is from Renwick St in Leichhardt. Cross Parramatta Rd at lights and follow Railway St, Croydon St and Crystal St (can be busy), Shaw St, Chester St, Albert St and Newington Rd to Agar St, then Illawarra Rd as before.
I hope you enjoy exploring the Inner West by bike and will go on to rides to other areas. These routes are of course only one cyclist's attempt to find ways around. There may well be better routes or diversions that you will find yourself once you start exploring. I have tried to select reasonably safe but direct routes but you will have to be prepared to battle some traffic in places. Always look out for possible dangers and ride with care and caution.
LBUG on Ning. New interactive site for LBUG. Anyone can join
Thanks to Andy Mitchell and the Wikipedia team for links to articles on Leichhardt area.